How can I move local history of monitoring (changes) to new PC?
Thanks
Hello @lego, welcome to the community forum!
When using Distill's account to sign into your account, data is automatically synced to the new PC after signing in. Did it not work for you?
I was not signed on my old device. When I sign in, I don't see any monitor, when I sign out I can see my old monitors stored somewhere locally on my old PC.
How can I move them to new PC ? I´m affraid of losing old data.
One of the ways to export the monitors' settings is by exporting them as JSON as described in How to Export and Import Monitors? | Distill.io. Make sure to export them to have a backup to fall back to. The exported JSON can later be imported in a different Watchlist. Please note that this doesn't include monitor's history, only the configuration.
This is unexpected. I am wondering if there is a permission issue with the extension.
Can you click the Distill icon in browser toolbar and then click "Go to Watchlist". This will open the extension's Watchlist. Can you share a its screenshot? Please blur sensitive parts to make sure that sensitive information is not shared here.
Thanks!
There is a "Sign In" link in top right corner. It shows that you haven't been able to sign in yet. Do you recall customizing the extension's permissions in any way?
I didn't customise permission on my old PC. I did this steps.
I Exported json/csv from old PC
I imported csv to my new PC without signing in (there was problem in import, may be due to the limited number of monitors on my old PC - I have 33 on old and I was able to import just 25)
I signed in on new PC to this forum to ask advice. I think, that this caused, that Watchlist on new PC signed in and sync imported monitors ???
I signed in on my old PC and saw only 25 monitors imported from new PC. I signed out immediately on old PC and now I can again see old monitors with history.
I deleted imported monitors on new PC and sign out.
That is current state.
I understand, this is not main problem.
On old PC I see 33 monitors (not signed in), on new PC zero (signed in). But the main problem for me is how to move history of changes monitored page , stored somewhere locally on old PC, to my new PC. See the picture.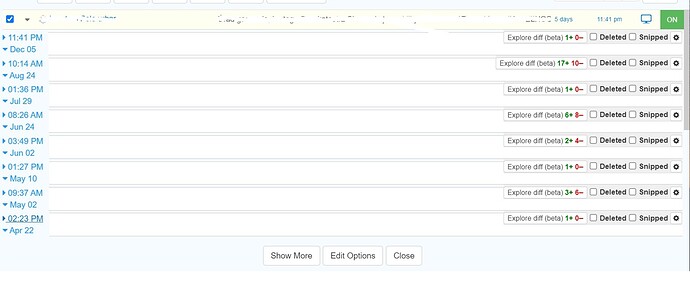 The change history can be synced if the extension is connected to the account. Once connected, data is synced automatically to connected devices.
I noticed in comment #5 that you were not signed into the extension. Did you face any issues signing into the extension on the old PC?
When signing in, please note that the extension's Watchlist's URL starts with "chrome-extension:" protocol.
When I sign in on old PC a blank watchlist I can see with "No monitors found." and without sync button. After signing out on old PC and after new opening watchlist I can see local stored monitors (see screenshot above).
Following screenshot shows what it should look like once you are signed in. Notice the username on the top right of the toolbar:

My guess is that extension was not able to sign in into the account on the old PC. Can you try signing in again and compare that with what I highlighted in the screenshot?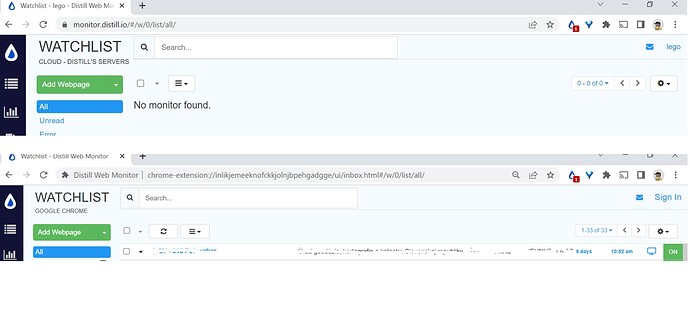 I´m sending screenshots. When I sign in, address change to monitor.distill.io.
So finally I succeeded, the problem was probably that another device was registered for this account. After deleting it, the synchronization took place. Thank you for your patience and help.